On April 11, Fourth View hosted Taking the Next Step: Solutions to the Opioid Crisis in conjunction with The George Washington University chapters of Young Americans for Liberty, Students for Liberty, No Labels, and Table Talk. Thank you to all of the clubs and their members for bringing together this great discussion!
Prior to the event, we shared a statement from Ohio State Representative Jena Powell that served as a launch pad to the discussion. With almost 4,000 opioid-related overdoses in 2016 alone, Ohio is one of the hardest-hit states. That's a rate of 32.9 deaths per 100,000 people – more than double the national average rate of 13.3 deaths per 100,000.
Jacob James Rich from the Reason Foundation addressed conventional thinking that over-prescription rates are the leading causes of opioid deaths and instead presented his research on how black market drugs may actually be driving force. Tom Sauer with The MacArthur Group shared his observations on the recovery process and fielded questions on whether the for-profit recovery industry is adequately scrutinized.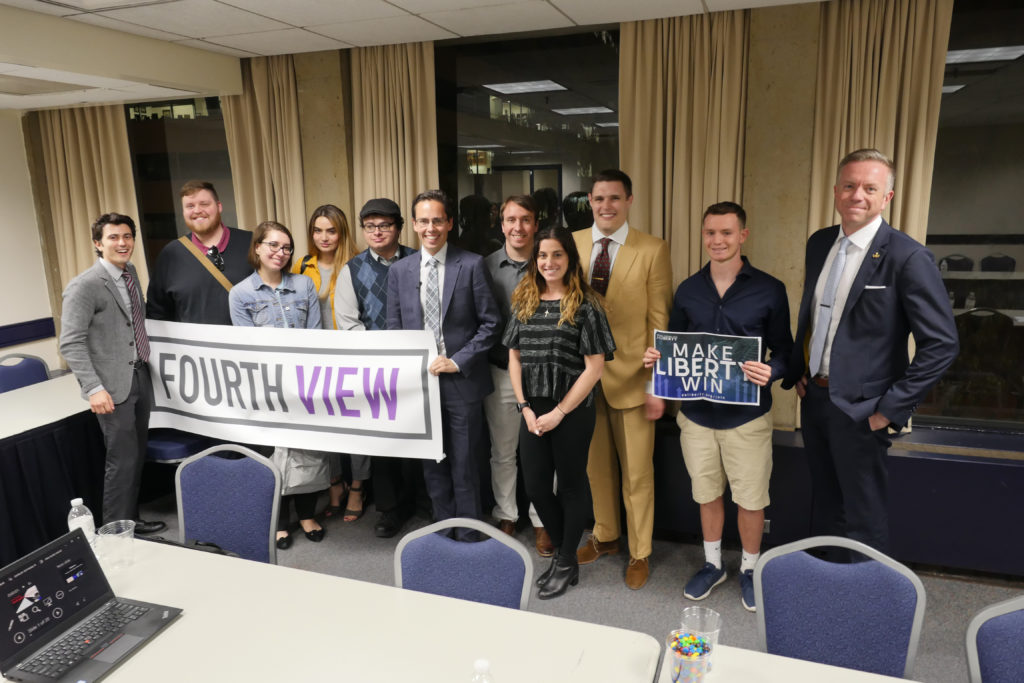 Ohio: Ground Zero for the Opioid Crisis

Ohio State Representative Jena Powell
Ohio is a state with one of the highest opioid overdose rates. On a state level we've made regulatory changes to healthcare and allocated resources to helping individuals and families in crisis. Most importantly, we've seen our non-profits, families, and churches stepping forward to provide community, care, and support at a local level to help those struggling with addiction and those affected most by this crisis.
We have an epidemic of loneliness in our country, and our communities are being hit hard by the opioid crisis. It is destroying families, businesses, and opportunity. The solution won't come from just one place. To overcome this we will need a combination of community support, tightening our borders, and healthcare reform. Together we can win this battle.
Killing Customers is Good for Business??? Drug Dealers Say Yes.
Jacob James Rich, Reason Foundation*
If you (drug dealers) kill the people buying drugs from you, do more people come? They (drug dealers) said 'hell yeah' and the reason is because people who consistently inject have built up a very high tolerance, and they've had times when they've consumed drugs that they don't get enough potency – they're not getting enough drug in order to get high.
So when they (drug users) see people dying, that's actually a signal that the drugs are potent enough for them and that they usually assume that the person who died either doesn't have a high tolerance, or maybe just got out of prison and lowered their tolerance from prison, or is just a newbie. But it's actually a signaling mechanism to people on the black market that if you kill them, you have the strong [stuff].
* Edited from event for clarity
How Regulations Affect Treatment Centers

Tom Sauer, The MacArthur Group*
There is actually some phenomenal legislation that has come out of Sacramento in California, where a lot of our focus is on medically-assisted treatment being a requirement for opioid addiction… Mandating medical treatment if you're going to have a license to treat addiction substance abuse, I think, is important.
One thing that's interesting about the addiction recovery industry at large is that it's an incredibly fragmented industry. It's almost entirely small, independent places – the four biggest players in the market control less than 10% of the overall market share together. There really isn't a whole lot of standardization, however they are all regulated and licensed by the State and there are also are the joint commissions that are separate governing bodies that certify them.
* Edited from event for clarity