Fourth View sent FOIA requests to universities seeking information surrounding finances and guidance connected to COVID-19 from approximately the time campuses began acting.
California State University, Fullerton responded to our request, producing 6 pages of emails. Here are the highlights:
On April 28, 2020, Tonantzin Oseguera, Associate Vice President Student Affairs, mentioned that she saw the club Students for Quality Education (SQE) on Instagram live were going to bring up tuition reimbursement at the next Board of Trustee meeting. The email chain doesn't specify whether the SQE they were referring to was CSUF specific, but she said at the end of her email it may be either CSULB or CSUF.
In a prewritten script for CSUF's Virtual Town Hall for Students on April 22, 2020, President Virjee anticipated potential questions on tuition refunds. Pages 7-9 mentions he donated 10% of his monthly salary to an emergency fund until the end of 2020. Up to that point, they spent $500 million on upgrading IT infrastructure. A total of $20 million in losses was projected by the President.
On pages 9-11, the CO and Campus Reimbursement Policies section, Virjee specified why he couldn't just refund Spring or offset summer costs. It's interesting to note, the first reason is that the CSU as a system would have to decide on doing that. This is a departure from how other universities have spoken about it by placing his second and third reasonings first.
In Purpose of the Fees, the President actually lays out how the ASI's actions have actually doomed the student body to continue paying for on-campus buildings, even through a pandemic that rendered them useless to students. The ASI took out loans to pay for the construction of these buildings, so the student body can't just stop paying. They have to continue making payments (for an unidentified number of years) until the debt is fully paid off. However student fees for facilities, such as the Student Success Center, pay for staff salaries.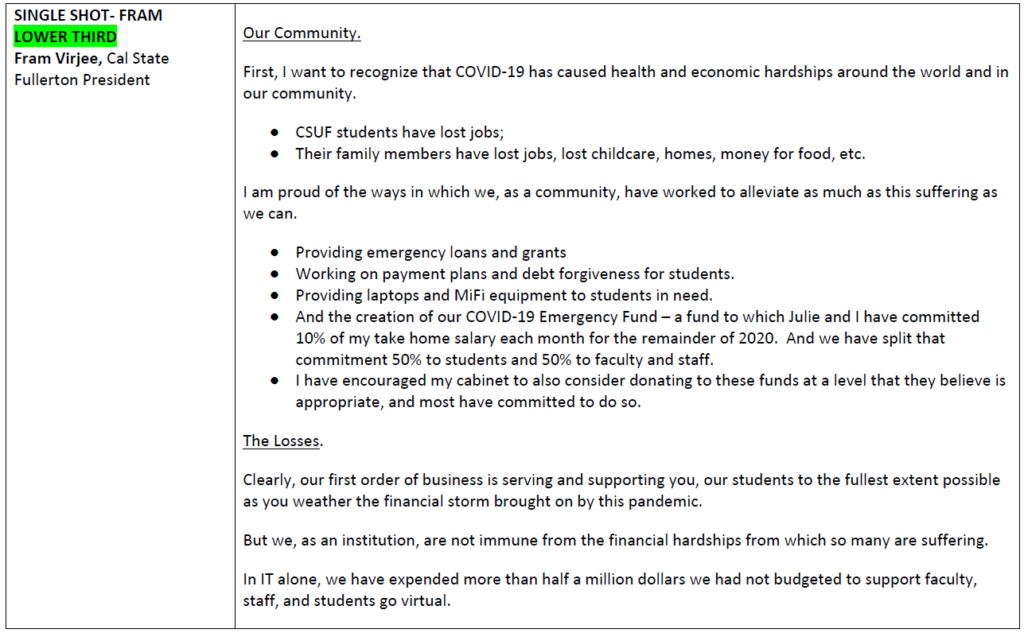 The CPRA request sought communications, including emails, of President Fram Virjee, Vice President for Administration and Finance/CFO Danny C. Kim, Vice President for Student Affairs, Harry Le Grande, and Professor of Finance and Chair of the Academic Senate Mark Hoven Stohs, that contained the phrase "tuition reimbursement" and "tuition refund" during the months of February, March, and April of 2020.